年7月19日,福建伟思国瑞软件股份有限公司在全国中小企业股份转让系统挂牌(证券简称:伟思国瑞,股票代码:838235),转让方式为协议转让。 On July 19, 2016, Fujian Weiss Guorui Software Co., Ltd. was listed on the national SME share transfer system (security abbreviation: Weiss Guorui, stock code: 838235), and the transfer method was agreement transfer. This indicates that Weiss Guorui has taken another big step in standardizing the operation of enterprises, improving the corporate governance structure, and promoting the healthy development of enterprises.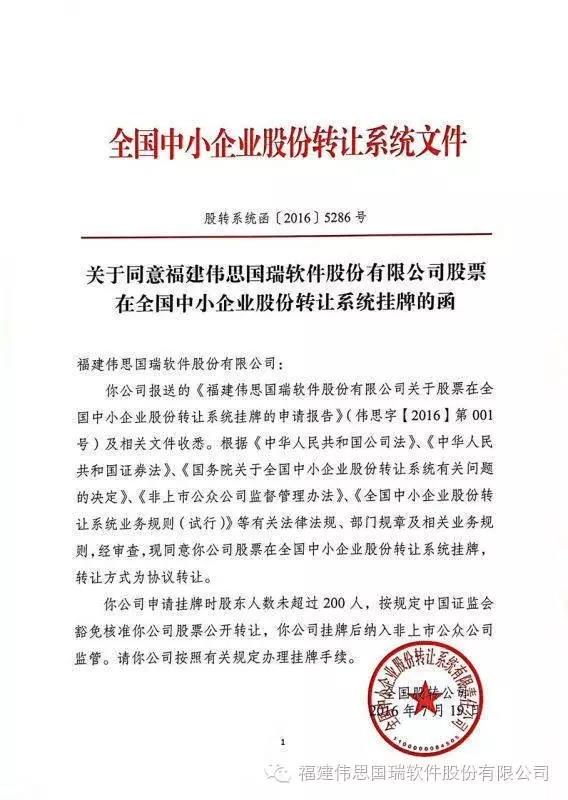 Weisi Guorui is a comprehensive service provider focusing on overall smart city solutions. It is mainly engaged in application software development, system integration, smart city operations and related technical services for e-government. It focuses on the smart city business field, using the Internet of Things, Core technologies such as data, cloud computing, and network security provide complete products and solutions in urban grid management, smart government, smart meteorology, smart water conservancy, smart environmental protection and other industries.
Weiss Guorui always adheres to the concept of "innovation, coordination, green, openness and sharing", and is determined to provide strong support for national big data and benefit the people of the country and the world.